The handbrake system has an an adjustable lever, allowing the lever to be tilted 120 degrees in infinite adjustable steps in order to offer maximum flexibility. The lever features a soft grip at the end.
The handbrake can detect forces of up to 17kgs (measured at the soft grip at the lever) and features an overload protection. The load cell is (indirectly) activated by a rubber, which gives the handbrake a firm and progressive feel. The handbrake comes with 2 types of rubber, so the feel of the handbrake can be adjusted.
The Sim Handbrake comes with various options for mounting it to your rig. The base unit of the system has a 2×2 array of mounting holes/slots.
There is also an alternative mounting solution: With every handbrake we also supply an adapter plate ('wingsuit') which can be mounted directly on aluminum profiles with a maximum width of 40mm. The handbrake can then be mounted on top of this adapter. Please note that you must supply your own T-nuts, nuts and bolts to fit the handbrake to the adapter plate and the adapter plate to an aluminum profile.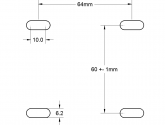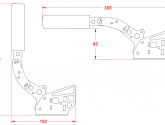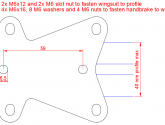 Since the angle of the handbrake lever can be adjusted 120 degrees, you can mount the base unit both in a horizontal and vertical position.
The handbrake comes with a USB controller box (with onboard load cell amp and USB connector). This controller board gives an analogue output (it acts as a single analogue joystick axis).
This handbrake will be an excellent piece of kit for all simulation software which allow the use of an analogue handbrake. Simulators known to support an analogue handbrake are:
Richard Burns Rally
Live for Speed
Automobilista
Dirt Rally
Project CARS 2
This product is compatible with the PC / Windows platform. It cannot be used on consoles such as Xbox or Playstation.
Sim Handbrake
Product Manual
Service Bulletin #4 – Sim Handbrake Controller Casing